How I've built these pages...
http://www.conserver.com/consoles/iloj.html
(updated:Sunday, 06-Jan-2008 16:09:24 PST )
First, the short answers;
Photos: Canon PowerShot Pro A70, 1.2 Mpixel camera
imported using Zio Corp.s *Dazzle USB 2.0 Media reader (under Mac OS X),
or mediaGear 9-in-4 CF reader (under Windows 2000).
Image annotation, manipulation: I usued to use Adobe ImageReady 1.0
(This is also my primary tool for animated GIFs! It's Excellent, but doesn't run under OS X.)
Now I'm using ImageWell, primarily for cropping, and Intaglio for annotation.
Illustration Art: Originally in MacDraw, then MacDraw II,
then migrated most files into CLARIS Draw Pro
currently using Intaglio under OS X (native app!).
Web Page initial design and layout: CLARIS HomePage v 2.0
(Still a great tool for lightweight HTML, color and image layout)
it works much better under older Mac OS, than under OS X.
Under Mac OS X, I now use

Nvu


Minor tweaks and tuning using vim
Database: FileMaker Pro, versions 2, then 4, and now version 7
(Supporting my Host-to-Adapter pages, and the BREAK-off testing.)
Dynamic Web Pages: PERL (what else?)
(This creates the host-to-adapter pages, and related Palm Docs, from the database info.)
PalmDoc generation: Bibelot.pl, by John Fulmer.
Now, a bit more detail, for those who want more...
I've prefered Apple Macintosh products for my creative efforts, and my first web pages were created on a DUO 230 (greyscale screen, so I had to guess about colors, and then check the HTML in a variety of browsers until I found colors I liked). The greyscale screen was actually a Good Thing, as it made me conscious of how various colors would be displayed on greyscale screens, as well as greyscale printers. Since I was a proponent of using color to communicate, I learned early on about checking my work for compatability on older, less-fancy gear.
While working at Network Equipment Technologies in the late 80's, I was a volunteer in the N.E.T. Mac Technical Assisitance Center, where I was a specialist with Filemaker (then a CLARIS tool) and Mac Draw. As a tech support specialist for a large company (read: a large corporate Macintosh User Base), I had a chance to buy one copy of each of the CLARIS products for a great discount, so I jumped at the chance. As a result, I became knowledgable on all of their applications (which was their goal in granting the discounts). This was when I upgraded to CLARIS Draw Pro.
Over time, I bought more Macs for home, with color screens, but I kept my pages on the DUO for many more years. I finally upgraded to a DUO 280C (color screen) with a bigger disc in the mid-90's. In 2000, I upgraded to a DUO 2300 (color, PowerPC), but the screen died in 2002. Since then, I've mainly maintained the pages with an iMac DV, running OS 9, using all of the same applications.
In 2004, the iMac drive died, taking most of the changes of the previous two years with it. While the website remained, it was the output of some scripts, but the core databases were lost. I rebuilt them from files on the 2300's hard disk, but then I needed to fill in the gaps of the past couple years.
When I recovered the drive, I installed OS X (10.3) instead of OS 9. While I enjoy the linux-like computer underneath, I've found a few issues with running older apps in "Classic Mode" (OS 9 emulation). The Adobe ImageReady performs pretty well, so far, and will remain as a mainstay tool. CLARIS HomePage and CLARIS Draw, however, are too old, and were not designed to integrate well with the Classic Mode emulator. As a result, it's a lot of extra work to get existing files into the app for editing. It's still a useful tool, however, for creating new pages, and I'll continue to hack with it for now.
Intaglio initially interested me, because I wanted a draw tool that would open my older artwork and illustration files. Version 1.x would open PICT resource files, but I still had to work in CLARIS Draw and MacDraw (in Classis Mode...) to export older files as PICT pages, and then open them in Intaglio. It was a lot of work, and the outcomes weren't perfect. However, version 2.2 will open the CLARIS Draw files directly(!), and the results are GREAT. Also, I can select a portion of a page now, such as the schematic for a single adapter, and "save selection as...", choose JPEG, and I can kick out the new illustrations faster than the old way (which was to paste them into a new image in ImageReady, and then save it as a GIF).
I'll occasionally continue to use ImageReady for animating GIF images and photo annotation. (ImageReady was so popular, it became a 'bundled' tool with Photoshop. Unfortunately, the cost of Photoshop was too high for me, and the feature set of Photoshop was too much for my needs, so I have never upgraded this app. Fortunately, ImageReady does a good job, doing the things that I needed it to do, so it was worth my initial investment. If you can use more of the power in Photoshop, consider looking for the bundle with ImageReady!)
I've now moved into an Apple Mac Mini, and the newer versions of OS X don't come with OS 9, so I'm still using the iMac DV for using ImageReady, and older apps. I'm now using Nvu to compose web pages, ImageWell to crop and adjust photos, and Intaglio for the line art, adapter drawings, and image annotation.
I'm just scratching the surface on the vast feature set of FileMaker Pro version 7, and a couple features for 'relational databases' have made it a bit harder to recreate my old databases in the new application. But, the results have been worth the work.
As I rebuild and upgrade my website, I'm also implementing a backup that includes burining the occassional CD, and mirroring the data to a second site. (I'm also using a .Mac account to backup the stuff on my Mac, so my source data is safe as well.)
Just to show that I'm not "just a Mac Fanatic", I'll add that I've had plenty of experience with early DOS through Windows XP and 2000, as well as a few flavors of Solaris on older SUN and newer SPARC gear, as well as X-terms, diskless computing, and special-purpose hybrids. Out of all of this experience, I simply prefer to use a Mac at home.
The BREAK-off testbed is a collection of Mac, Intel, and Sun hardware. In the image below you can see one of my past hacking projects, trying to provision a dialup network through a geo-stationary satellite link. Note the PC in the foreground, and the Sun SPARC to the right side of the frame. Also note the picture hanging on the wall, drawn by G. B. Trudeau, titled Net Head (a signed, limited edition litho :-).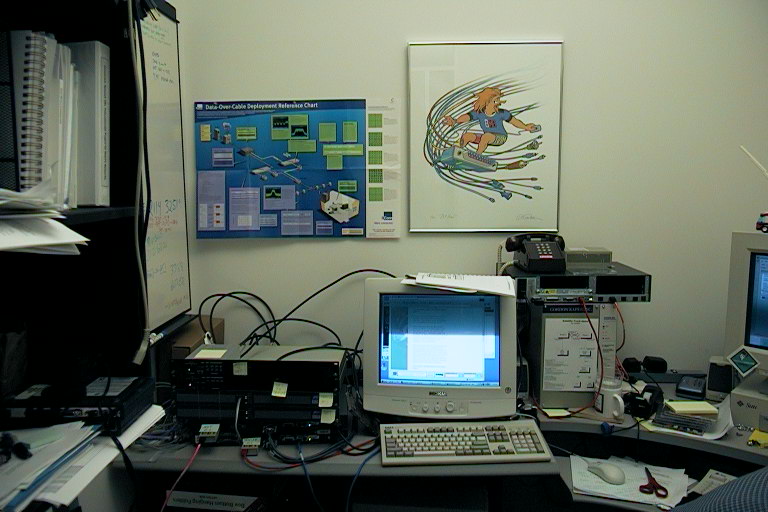 NOTICE: Most of the pages, articles, and tutorials on this website are copyrighted works. You may make 'deep links' to various pages. (If you let me know which page(s) you are linking to, I'll let you know if I move the page(s) during updates.) Please send me email if you wish to republish any material, or use it on your own website.
Made using Nvu
Copyright 1996-2008, David K. Z. Harris, N6UOW

Questions? Comments? Additions? Email consoles at conserver.com.
(Don't harvest my address, I don't want SPAM!)
How does he do it? And Why?